Dermoscopy or dermatoscopy a simple, non-invasive diagnostic method for the identification of a number of changes in the skin.
Dermoscopy is possible to set up a more reliable diagnosis of pigmented skin lesions, and in particular to distinguish melanoma from other benign pigmented lesions. Clinical reliability of diagnosis of melanoma just by eye is estimated at 65% and dermoscopic examination improves the reliability for 5-30%.
Also, with this method, early detection of other tumors of the skin is possible, and newly it is used in the diagnosis of other dermatoses.
Dermoscopy cannot replace clinical examination, but it is a great help in the diagnosis and evaluation of pigmented lesions.
Examination is very simple, there are different types of dermoscope, the lesion is virtually magnified and lightened by device and the image can be saved to your computer, and after a period of time compared with previous dermoscopy images. Due to the increasing incidence of skin cancer, it is advised that patients at least once a year visit dermatologist and examine their birthmarks on dermoscopic examination.
To perform dermoscopy quality equipment is required, as well as the trained and experienced person who performes dermoscopic examination.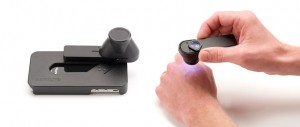 The SkinCare Center dermoscopy is implemented with the latest DL1 Iphone4 DermLite dermoscope. Professional team of SkinCare Center passed all four levels of training in dermoscopy (Argenziano, Zalaudek) and has many years of experience in dermoscopy, teledermatology and mobile teledermatology.